Win Stories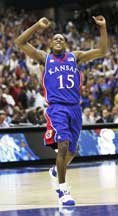 Everyone is congratulating Kansas today. That's great. They put a round ball through a metal hoop a bunch of times last night.
But have you seen what the volunteers at Access Church have been doing?? Truly amazing stuff!
Part of our staff meeting each Monday involves sharing "win" stories—How we are seeing God at work in the body of Access Church. It's my favorite part of the week, celebrating what we see God doing through our volunteers!
Here are a few you might enjoy knowing about:
Rose, a beautiful woman in her 90s, continues to join us each Sunday to celebrate and sing, "Jesus is Alive!"
A local schoolteacher invited a student, unfamiliar with church, who in turn has invited his entire family!
A couple whose marriage is in trouble has come back to Access for the practical teaching. Can you imagine how Louie's message might have impacted them?
A self-described atheist who has been coming to Access emailed me to say, "I hope to strengthen my faith, shed my preconceptions, and relieve my tensions with God some day."
An Easter attender sent an email to say, "The music touched me and I have continued to think about it every day since. Thanks for the environment that you created that day. It was truly authentic worship and I don't think you could have been in that room and not have been affected by it."
One of our visionary givers called me to say that giving isn't enough, he wants to "get his hands dirty" as well!
One of our load-in team members rebuilt our table that holds all our A/V gear in the back of the room. No one asked him. He just did it. Thank you, James!
Abner Ramirez called and asked if he and Amanda could start leading worship every Sunday at Access. They love it that much!
Jeff, on the production team, recently ran the audio mix for the first time by himself. It sounded great!
Three new guys have joined us to help tear-down after the 11:15am service. What a huge help!
One couple was invited by an Access attender while at the park. In the past couple of months they've started attending, their daughter runs down the hall toward Waumba, they've joined a small group, and now they want to volunteer. Hurrah!
You can't possibly know how encouraging this is for us to hear! We are so proud of you! There is no other place we would want to serve. Access Volunteers Rock!
Thanks to all of you who
PRAY
for the people and environments at Access Church, for those who
GIVE
to make it all possible, and for those who are
SERVING
and
INVITING
their friends.
I love doing church with you!