Fóy•er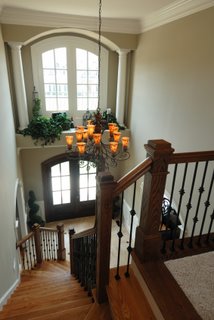 Last Sunday was pretty cool. There was a definite buzz at Access Church. Perhaps because we're now meeting
every Sunday
, or maybe because it was the first Sunday of the new school year.
Either way, we had
10 first-time families
register children in Waumba Land and UpStreet. That's pretty cool!
We refer to Sunday mornings as a "foyer environment" because it is our primary goal on Sunday mornings to make
guests
feel welcome. Those of you reading this blog are key to making these families feel welcomed at Access. Here are a few thoughts as we look to our second-ever-in-a-row Sunday:
I was recently shopping for Stephanie's birthday. I ventured into the women's section of a department store.

Not

my comfort zone. The salespeople didn't notice me, however, because they were completely engrossed in their own conversation. I waited to be noticed, then finally gave up and left. Let's remember that while it's fun to see other members of the "family" on Sunday mornings, the Foyer is all about welcoming our guests.
Look for the uninitiated. They're pretty easy to spot, really. They're looking for the signs, reading their way to where they need to go. Why don't you help them out? Don't just direct them—escort them to where they need to go.
Be warm without overbearing. Most guest don't want to be interviewed upon arrival. Give them some space. But others would love to share their story of how God has led them to Access Church. Yeah, I know... tough balance. But we've got to work hard at reading people!
Keep in mind our
win
for Sunday mornings, "To completely change the mind of the unchurched about what church can be."
Let's surprise some people this Sunday!