Katherine Mangel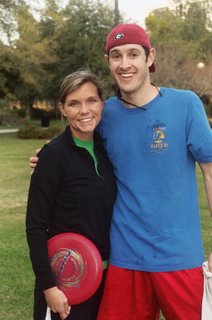 Katherine Mangel didn't grow up in church, but when she was 16 years old, she began the journey of getting to know Christ and engaging in a relationship with Him through the high school ministry of Young Life. For the next six years, she attended many churches, but never got plugged into one. "The churches I went to as a young adult proved to be more traditional and formal," she said. "I had a tough time grasping the meaning of living for God and partaking of community with other believers."
In 2002, Katherine graduated from the University of Georgia and left Atlanta, but returned a year later to start graduate school at Georgia State. Her first Sunday back in town, her best friend from college invited her to Buckhead Church, a satellite campus of North Point Community Church. "I moved back to Atlanta on a Saturday and went to Buckhead Church the next day," she said. " I gained so much from that first service, that I rarely missed a Sunday after that for the next two years."
Buckhead Church was different from any other church Katherine had attended. "It was so relational, welcoming, and friendly," she said. "The people were real and transparent, and I was able to get plugged in there right away."
Besides the people, Katherine also loved the speaking at Buckhead Church. "Andy Stanley and Louie Giglio are great communicators," she said. "I can always relate to what they say. They challenge me, they speak on my level, and they're great at being relevant."
Katherine settled into Buckhead Church, joined a small group, and started volunteering on the host team and in the kids' ministries.
In the spring of 2005, Katherine applied to six nursing schools, including the University of North Florida in Jacksonville. In July 2005, she found out that she had been accepted to UNF and, within a two-week time frame, she decided to attend the school, told friends and family of her decision, and made the move to Jacksonville.
About a week after she moved, Katherine received a call from
Michael and Zoie Morales
, friends she had known in Atlanta and at Buckhead Church. Michael and Zoie had also recently moved to Jacksonville and were considering starting a North Point strategic partnership church there. They wanted Katherine's help. "Starting a church seemed like such a daunting task," she said. "I was extremely excited about the idea, but I was unsure how it would unfold."
Michael worked on getting other people together in Jacksonville who were interested in starting a church, and the group that would later become Access Church met for the first time in December 2005. "There were five couples plus me," Katherine said. "I was the only single person and also the youngest, so it was really challenging and humbling to become a part of the group."
North Point has had an impact on Katherine's life, and she wants to work through Access Church to bring that impact to others. "All of us truly do want to make an impact in Jacksonville," she said. "We are dedicated to the non-believer, and that's why we're so on-fire for this new church."
Katherine plans to marry Zach Mitchell, pictured here, in April of 2007.
Labels: Who is Access