Sutton & Debbie McGehee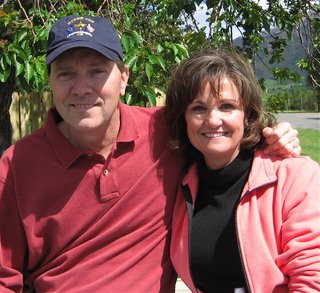 Several years ago, Sutton and Debbie McGehee made a trip from their home in Jacksonville to visit their daughter, Amanda, who had moved to Atlanta. Amanda had been telling Sutton and Debbie about her church, Buckhead Church, a satellite campus of North Point Community Church, and she was anxious for her parents to attend with her.
Sutton and Debbie weren't sure they would like Buckhead Church. The idea of viewing the message on a large video screen instead of seeing a live communicator didn't appeal to them. But once they attended, they had only great things to say about Buckhead Church. "The quality of the screen was outstanding," Sutton said. "It really seemed like Andy Stanley was right there in the building."
The excitement at Buckhead Church drew Sutton and Debbie, and they liked Andy's teaching. "Andy is a gifted speaker," Sutton said. "He held my attention the entire time."
Debbie said, "The way Andy delivered the message was relevant, pertinent, and upbeat. He was in tune with people. I took his message away with me."
Back in Jacksonville, Sutton and Debbie got involved in North Point's CD ministry. They listened to Andy's messages regularly, and they attended Buckhead Church every three-to-four months, whenever they visited Amanda.
In 2005, Amanda told Sutton and Debbie that Michael and Zoie Morales were considering starting a North Point strategic partnership church in Jacksonville. Not long after, Michael emailed Sutton and Debbie to see if they would be interested in helping start a church.
Michael and Zoie had grown up with Sutton and Debbie's daughters, so they knew each other, but Debbie was still surprised to hear from Michael. "Starting a church was an overwhelming idea," she said. "I wasn't sure it could happen."
Sutton and Debbie jumped on board. They felt that there was a need in Jacksonville for a North Point church. "North Point knows how to excite youth," Sutton said. "And there are so many unchurched youth in Jacksonville."
Over the next several months, more couples joined the group that would later become Access Church, and the strategic partnership gained momentum. "It has been incredible to see how God has brought this idea full circle," Debbie said. "He provided the key people—people who didn't even know each other but were all on fire for the Lord."
Sutton has found that, in Jacksonville, there is a lot of interest in Access Church. "Many people around here have heard good things about North Point or Buckhead Church, so they're interested in Access," he said. "I hope people will check it out, get a good impression, and want to come back, especially the unchurched youth in the area."
Debbie also believes there is a lot of interest in Access. "People are excited and keep asking about it," she said. "Jacksonville is growing quickly. We're busting at the seams, and this new church is the best thing that could happen here.
Labels: Who is Access