2009 Snapshot
Every successful organization must have clearly defined goals and concrete ways to measure success when those goals are attained.
In 2009 Access Church moved into a new worship facility and welcomed many new faces. It was an exciting year! Having lots of people in the room on Sunday is exciting, but even more important to us is connecting people in meaningful relationships and strategic service. We feel that it's in the context of these relationships that real life change takes place.
As you can see, we reached our 2009 goal of connecting 60% of our attenders in community groups and far exceeded our goal of connecting 60% of our attenders in strategic service. Thank you for helping us reach these goals!
2009 was also significant because it was our first year of financial independence. As a start-up organization, we initially received funding from North Point Ministries. But in 2009, we were completely dependent on the giving of our attenders (reflected in the graph) and visionary givers who don't attend Access but believe strongly in our mission and strategy and believe Jacksonville needs a church like Access.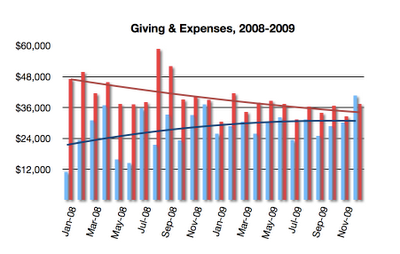 It's our hope that in 2010 the priority-percentage giving of our attenders will exceed expenses and that visionary giving can be focused on strategic long-term objectives and capital acquisitions.